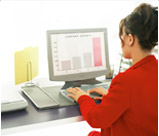 CRV Infotech helps you to gain control over your business future through its all encompassing web designing and Web development services.

Web oriented business approaches seem to be the most effective way to reach one's customers in today's corporate world. This gives your company the advantage of having
a global network that links people and businesses. All your global clients get to see is your website, if at all, you are going to make any impression on them it is through your website. All that you need to achieve this is to have a professionally designed website that would serve as an undeniably effective tool. CRV Infotech offers quality web design and web development services that would take care of all your web related needs such as:
+ Web Designing
+ Web Hosting
+ Web Programming Services
+ IT-enabled Services
+ Media and Entertainment
+ Web Development Services
+ Search Engine Optimisation
+ Flexible Staffing Solutions




Over take the world that is obsessed with speed with our advanced...



+ System re-engineering
+ Palm device applications
+ e-business operations
+ e-marketplace development
+ ERP integration
+ Application hosting
+ Device driver programming